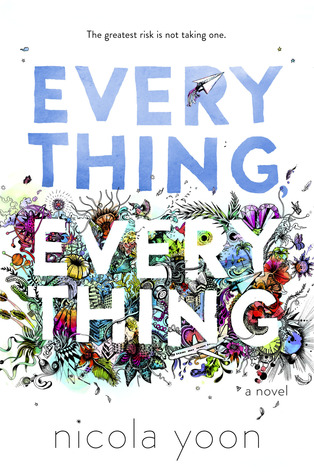 Just in time for Mother's Day! This book has a huge focus on the mother-daughter relationship!
Everything, Everything was everythang! Nicola Yoon has quickly become one of my favorite authors. I reviewed The Sun is Also a Star before this, and Yoon's first book is just as good (TSIAAS is just a bit more polished).
STORY:
"…The world barely knows I exist. I mean, I exist online. I have online friends and my Tumblr book reviews, but that's not the same as being a real person who can be visited by strange boys bearing Bundt cakes" (pg 29).
In Everything, Everything by Nicola Yoon (310 pages), Madeline Whittier (I'm going to be calling her Maddy throughout the review) is sick, in a way, she's allergic to the entire outside world. Her mom and the best nurse ever, Carla, keep her monitored closely and on a tight schedule. Nothing in Maddy's life is unplanned or out of the ordinary until (wait for it…) a boy, parkour-black-clothes-only-wearing boy with one dimple in his right cheek, moves in next door.
Yoon is awesome at "showing" and not telling. I love reading her descriptions of characters and things, basically just nouns. She describes nouns well.
"Maddy: What color are your eyes?

Olly: Blue

Maddy: Be more specific, please.

Olly: jesus. girls. ocean blue

Maddy: Atlantic or Pacific?

Olly: Atlantic. What color are yours?

Maddy: Chocolate brown

Olly: More specific, please

Maddy: 75% cacao butter dark chocolate brown

Olly: hehe. nice" (pg 51).
I also like how the real-world references didn't feel cringy. This book taught me a word that I never knew existed, uxorious. Aww! My favorite English word is pugnacious (or adore), but it might change!
"Maddy: Friends don't kiss, Olly.

Olly: really good ones can" (pg 123).
I want to say Olly and Maddy were attracted to each other too quickly (instalove!), but if you were basically trapped in an impenetrable bubble your feelings might be intensified. Also, hormones.
There are some mentions of domestic abuse (not with Olly and Maddy btw), and a heavy-handed hint at mental trauma. Oh yeah, there's a sex scene too, a little edgy but not explicit. Blink and you miss it. I don't know how I feel about it.
No one had to tell me, but I just knew from the minute I picked up this book that there would be adorable "aww-worthy" moments and some punches in the gut. This book has a mean right hook.
CHARACTERS:
Maddy was sheltered and compliant, but her head was also in the clouds (or rather outer space) and Olly sent her thoughts and health awry.
Olly was agile, witty, and fun. He harbored a lot more pain than he let on, and Maddy intrigued him in every way. He also loved black clothing but wasn't goth.
Wow. The mom was so believable. I just… She really loved Maddy, almost to a fault.
I loved Carla! She was the absolute best!
OVERALL:
I enjoyed it! The characters, the humor, and, even though it made my heart physically drop, those gut punches. The climax was very climatic. I can't wait for the movie!