"She'd seen what his soul was made of. And she liked it" (pg 367).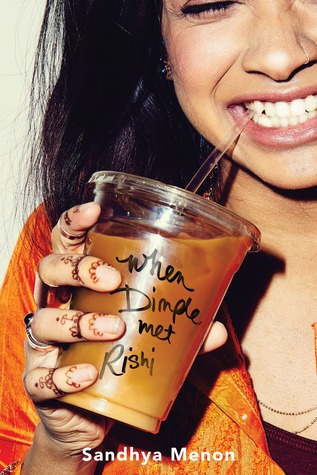 STORY:
When Dimple Met Rishi by Sandhya Menon (380 pages). First, I really liked the cover (and the controversial "iced coffee" back cover) and the rom-com flare though I've to say I got tired of the constant kissing. You have to drizzle kisses into a story like sprinkle cheese, not too much. On another note, I just loved Dimple's name; it's so cute.
There's not much focus on the actual coding that takes place (it's lampshaded by Dimple herself). Instead, living up to parents' expectations, back-and-forth with Dimple/Rishi, and a dance contest takes up the bulk of the book. If you don't mind the lack of coding, you will probably enjoy the non-linear plot.
Also, I was amazed at YA fiction characters communicating about sex before having it, and even putting it off to a later date.
CHARACTERS:
Disclaimer: Yes, we know Dimple "took over too much", can't keep her fists to herself, and basically played yo-yo with her relationship. And thought she was a special snowflake. It's understood.
Dimple is a brash character that still is likable in some portions of the book. It's really hard to pull off characters like her because they usually come off as edgy jerks. However, that's not entirely the case here. If some of her narrative thoughts could've been tweaked a little, I think more readers would have liked her.
Rishi is a cinnamon roll. It's super-refreshing to have a male (romantic) lead, in a genre filled with angsty bad boys who can't communicate, that speaks his mind and is kind in a gentleman sort-of-way. I actually wanted him to find another girl who suited him better. Dimple, of course, wanted the best for him, but she forced him to make decisions often.
OVERALL:
I didn't hate this story. I rather liked some of the details and descriptions and diverse characters. Whoa. That's a lot of "d" words. Anyway, I don't feel as strongly as others, so I recommend you read it. 3 stars/5.
[SPOILERS START HERE]
This book really missed the opportunity to have Dimple and Rishi break up amicably. Instead of getting back together, they should've just apologized to each other and went their separate ways. It might've even been cool to have an epilogue where they ended up marrying other people.
I like chick-flick, cliche romance, but I'm not so naive to think young couples always stay together. I mean Dimple made some valid points about not wanting to be in her first relationship forever and never experience anyone else.
Or, hey, they could've broken up and got back together years later à la The Sun is Also a Star.