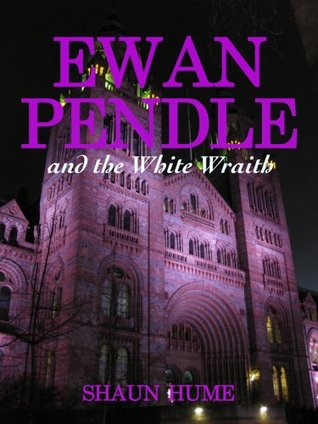 Disclaimer: Received a free ebook copy in exchange for an honest review!
STORY:
"Don't let what your eyes tell you disrupt what your heart already knows" (pg 209).
In Ewan Pendle and the White Wraith by Shaun Hume (468 pages), the book opens with a girl named Betony and her non-talking animal sidekick, a blackbird called Ronan. One chapter later, our real main character is revealed (Guess who. Really, it's easy. There's an obvious hint in the book title). Ewan Pendle's a normal boy with a not so normal ability. He's being raised by non-affectionate foster parents, so unimportant that their names are John and Jane Doe, and bullied and ignored by his four brutish foster brothers. Ewan's life has dragged on monotonously until the appearance of a strange lady who announces that he will be shipped to Firedrake Lyceum, a school with other children that see monsters just like Ewan. While there, an assassination attempt made on the Queen of England's life (not the one you're thinking of) fails, and it's up to Ewan and his friends to prevent another one.
Reminiscent of HP's four houses, Ewan Pendle and the White Wraith has five cliques, Witch (magic-users), Pyros (explosive-users), Stealth (in a sense, ninjas), Vanguard (think knights/swordsmen), and Martial (wrestlers/martial artists). I had assumed everyone would practice magic, but the cliques have their own unique twist. I would most def be in Stealth clique.
I am not used to so many female characters in a novel centered around a boy hero. Usually, it's just mom, sister, and female love interest. At one point, I wondered had Ewan been dropped off to an all-girls academy. I think it's awesome and essential that the girls of this book each played a meaningful role.
"The man wasn't just old, he looked ancient like his face and body had died a long time ago, but somehow there was still someone home" (pg 21).
There's also a bunch of old people that aren't relegated to only all-knowing wise roles.
I have mostly praises for this book, but I have to acknowledge that there were annoying tidbits for me. Way too many references to "coal black dreadlocks" and "liquid black eyes." You could make a drinking game out of it whenever this character was mentioned. You can't think for a minute that the girl's gone bald or wonder what color her eyes were. Also, one of Ewan's friends Carrie was sweet, but I can't really stand sickly nice characters.
CHARACTERS:
Ewan's adorably a bit shy and awkward and definitely confused about his monster-seeing ability, lineage, and Firedrake Lyceum. He's a little plain like white bread, but when you add his ingredients of cheese (courage), tomato (loyalty), and lettuce (cleverness) he makes an alright sandwich.
One of Ewan's friends, Mathilde was fun! Bubbly and so optimistic, it's no surprise her classmates were ignorant of the home life that she was glad to escape from.
Enid, the pirate girl, had a tough disposition and a major attitude in the beginning that stemmed from her upbringing. She hailed from a very large and poor pirate family. I didn't like her much when she appeared, but she ended up as my favorite character. Little girl can pack a punch!
The Rosethorn twins, Sneath and Scarlett, were a nasty, demonic pair of kids. It was as if someone perpetually spat in their cereal each morning. Just awful!
Enola, the strange woman that brought Ewan to the academy is strange. Ewan could do no wrong in her sight, and I have no clue why. She was a cool lady with a strong air of authority around her with just enough kindness.
OVERALL:
It's a little long but once you get to know the characters you won't be bored. I liked the twist at the ending too! Word of advice: If someone offers you a pirate kiss, say no and run away. You don't need context but just remember that.
I have never read any Harry Potter books (I know the gist of the story though), so I'm not sure if this will excite or disappoint an HP fan. Just have an open mind! Also, I gotta raise my hand because I had no clue what a wraith was until now. Anyway, maybe it's good I've never formally read HP. I was able to read this unbiased and thought it was a fun adventure. I give it four stars!