"Now was not the time for casual necksmelling, even if someone smelled tantalizingly of cinnamon, like a manly Christmas cookie" (pg 91).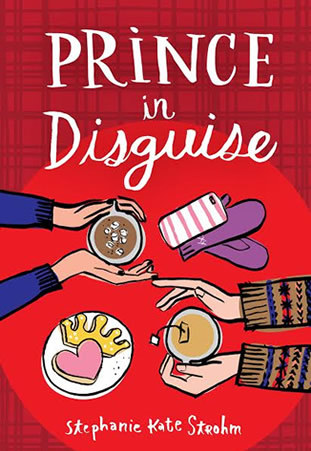 STORY:
Prince in Disguise by Stephanie Strohm (320 pages) is about Dylan's country bumpkin, beauty queen sister getting married to a lord (but prince sounds catchier! hence the title). Unfortunately, this forces the rest of the fam onto a reality TV show. Poor Dylan would just like to pass by un-noticed except network television is not having that!
First, I'm sorry (not really), but I'm tired of those cliche American vs. British jokes. You guys have fish and chips? Oh you, Brits! You guys deep-fry everything? Oh you, Americans! That's about 75% of the book right there. Please stop! It's cute at first but then it just gets grating.
Yeah, the plot twist is as obvious as a glow stick in a dark room. I guess the anticipation is waiting for Dylan to realize it.
I didn't care for the ____ or the sacrificial reality-tv lamb storyline. Surprisingly the "deadbeat returns" plot was actually fun. I enjoyed that part.
"Now, I knew romance could be perfect stillness" (pg 96).
Jamie and Dylan liked each other rather quickly. Still, that's the basis for a crush, right? Instant attraction. A few lines about poetry and the girl's hooked.
CHARACTERS:
The characters are fine. Heaven's got the most personality for me (and I really want to know more about her beyond being a best friend).
Dylan's the ugly-duckling who is actually not ugly but just overlooked. Apparently, she plays sports, likes books, and has never been kissed. I didn't really feel for her because beyond hating the reality show, liking Jamies, and feeling resentful toward her sis, there was nothing distinct about her.
Dusty, the beauty queen sister, has a little depth to her that makes her likable.
I liked Jamie but come on! He was written to be super likable as if there was a sign attached to his head saying, "Hey, like this guy! He spouts poetry references and likes Frozen!"
OVERALL:
"Perhaps that's what happens when you meet someone you really quite like […] You both feel a bit as though you've tricked the other person into liking you" (pg 198).
A sweet relatively wholesome story with some cute moments ("You missed, Dylan … " AWWW) though too predictable for anyone not interested in a light-hearted read. This is by no means a bad story; it's just I may have liked this more when I was younger. Still, I definitely recommend this for Hallmark movie lovers.