Aye! I'm always excited for new fiction with black leads!
STORY:
"'You can't control everything, Taja,' Daddy says in a soft voice, eyes closed to the sun.

'I know, Daddy. But I can control a lot.'" (pg 227).
Calling My Name by Liara Tamani (384 pages) explores Taja Brown's life. It is something of a fictional biography of a young, African-American girl growing up in a conservative Christian background from childhood to adulthood. Of course, you can expect first kisses, periods, and dealings with f*boys.
I think it is a good read if you enjoy "slice-of-life/coming of age" stories. However, the writing is so flowery that I get confused often.
I can emphasize with Taja's upbringing as I have grown up in a Christian home as well though my parents weren't overbearing with our faith.
Still, unfortunately, the narrative of an ultra-conservative character usually isn't that fun.
One of my favorite parts is when Taja feels guilty for reminding her father about a promised birthday present. That is a really relatable moment when you first feel "child guilt" because you know your parents don't have the money but you want something.
Also, I realized mid-way through the story that this is set somewhere between 80's-90's. Some of the references are dated like them listening to Johnny Gill. Chile, who out here listening to JG?
Okay, okay… I'm one of those people. XD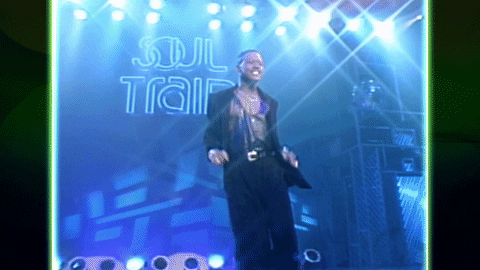 A few days ago I was just listening to Johnny Gill's old Arsenio Hall performances. (yes, I know the gif is from Soul Train).
CHARACTERS:
Not too many characters were memorable. I enjoyed the glimpses we saw of Taja's family and would have liked a bit more beyond her mother always disciplining her.
Taja is cool, but she is very whiny and a bit annoying in her narrative.
Naima, Taja's younger sister, is a character that I wished we could have seen more of. Unlike Taja, she's more sure of herself. Taja and Naima's sister relationship is barely displayed save for a few conversations in their older years.
Damon, the older brother, was okay. I like how he tried to overcompensate for his thinning headline at 15.
OVERALL:
This isn't a book I would necessarily read again, but it is nice experiencing Taja's adolescence with her.