Love the cover!
STORY: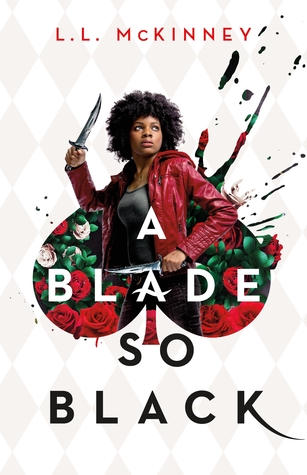 In A Blade so Black by L.L. McKinney (384 pages), after a scary night in the hospital, Alice had fully-embraced her new life as a dreamwalker, fighter of nightmares, in Wonderland. Hatta's been training her for months at night while she still manages to live as a normal 17-year-old. Well, until Hatta's been poisoned, and everything goes up into flames.
At times, I feel like this story is over-eager. It tries to mention all the points: grief, racism, police brutality, white allies, and not fitting the stereotypical "black" mold. I would've liked more focus on each subject individually instead of a quick touch and go.
Despite that, I love the way the nightmares spawn from real-life fear. For example, the connection between the black girl being gunned down and Alice's community pumping out waves of fear. I found this aspect excitingly interesting. I would've loved to delve more into that as opposed to the many repetitive times Alice has to deal with her mom/sneak out. They all end the same way. Alice says sorry, leaves again and has to fake text/call to fool her mom, Mom doesn't get fooled, and Alice gets in trouble. Rinse and repeat. I don't mind the living a secret life trope, but I wish the instances could've been more varied.
I enjoyed some of the cultural moments like when Alice forgot to defrost the meat for her mom (girl, how are you still alive!?! lol), the fact Alice knew she had time because her mom was at a looong church service, the AAVE, her natural hair, etc. I hadn't thought too much about the struggle of monster fighting with natural hair. For example, Alice bout sweated out her silk press trying to kill a monster. All of that stuff is relatable to me and made me smile when I noticed it.
Anyway, this has a slow start but when the Big Bad Boss starts messing with Alice, the real fun begins.
CHARACTERS:
"I'm protecting the world. Who'd protect me? (pg 143)"
Alice is okay. We don't really get a lot of time to spend in her head when she's not dealing with pain, grief, or nausea haha. I like that she has a smart mouth, and she's bold. She's strong but still vulnerable. I love when the characters cuddle or coo over her, and when they get the heck out the way and let her run things! SN: I love her nickname, Baby Moon.
I enjoy Hatta's wit. I know it's cliche, but I just love hearing (reading in this case) English people say "luv." I like him, but I don't know a lot of his motivations such as choosing Alice.
Eh, I didn't care too much for Alice's friends. They aren't that memorable and just play their roles (best friend to cover for you; 2nd love interest). I also don't care about pumpkin spice, not even enough for a drawn-out conversation that affirms my disdain for it (sn: to me, pumpkin spice smoothies are mad nasty ._.). And every time I've heard someone use Aaliyah's "Age ain't Nothing but a Number" in an argument (jokingly or not) some foolery has always followed.
OVERALL:
If you can wait for 100 pages, then you can really decide if this story's for you. I definitely knew I wanted to finish this because I love fantasy and diverse fiction. But I will admit I wasn't super eager to keep reading until after that point.
I haven't read AiW in forever, but many of the AiW references are in name only, like literally the characters names. This will either be great or disappointing depending on what you want. The originality tho does give it a lot of room to be great and distinct.
Be aware there are some cringey moments and dialogue here and there but some nice moments too!
Yes, I may have squealed at a certain kiss scene, but one day I'll grow up and be mature when reading about kisses. BUT TODAY IS NOT THAT DAY!
Lastly, why are y'all like this? As soon as junk gets entertaining and the stakes get high, you gotta wait for book 2.