Let's assume y'all have read the first two books in the trilogy.
STORY:
This is the conclusion of the Nnewts trilogy. It's been a while since I first read the other books, but thankfully there are a few callbacks to previous moments so I got up to speed rather quickly. Was the pace a bit fast and did some things not get answered with complete clarity? Did the characters make asinine decisions? Well yeah, but I might still be on the fumes of finishing-a-series-joy, so I'm most likely overlooking it. I liked this book.
The Battle for Amphibopolis reminded me of the Bible, Lord of the Rings, and Harry Potter (tho I haven't actually seen LoTR or HP) mixed into one.
I never thought a story with so many (permanent) deaths would leave me feeling satisfied. I mean if this were any other story, I would have been like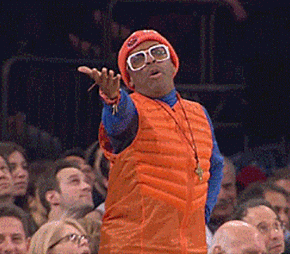 The little dash of romance was sweet but not entirely believable due to the age range of the recipients. I think they were supposed to be like 12, and like I said before it's been a while since I read the second book. But didn't Herk only know her for like a few days?
Anyway, when I saw Herk's parents in "heaven" so to speak, I started tearing up. I don't know why, but it really had me in my feelings.
CHARACTERS:
Herk is pretty much the same as before except this time he has to deal with trying to stall a Lizzard transformation.
Sissy had a less prominent role in this book. She got these great powers, but the potential for them just kind of fizzled out at the end.
Zerk was there as well. :p
I loved Launa and her father. Their relationship was heartwarming, and I enjoyed Launa's strong determination so much. I mean she was tempted with a very strong thing, but she turned it down. Respect.
ART:
I like the cartoony style and the colorful singing geckos? lizards? were so cute. Nice color direction overall.
OVERALL:
This is a fun graphic novel series though admittedly very violent at times. I give this book 4 out of 5, but as for the series as a whole, I don't know. I will just say it's a good series and leave it at that.