Hey guys! It's been a while since I've done one of these.
What I'm Reading Now:
Big Nate: Great Minds Think Alike by Lincoln Peirce (224 pages). I have read 59 pages so far.
Estranged by Ethan M. Aldridge ( 224 pages). I have read 0 pages so far, but I'm excited to read it.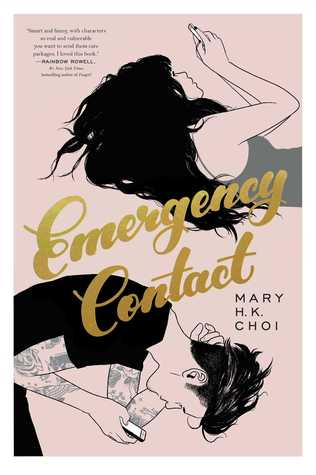 Emergency Contact by Mary H.K. Choi (394 pages) okay, the cover's gorgeous and the premise sounds super cute, so … You know I had to get it. I have read 0 pages so far.
All About Mia by Lisa Williamson (324 pages) seems like it has an interesting premise. I have read 0 pages so far.
What I Read Last Week:
In The Middle-Route Run (Rickety Stitch and the Gelatinous Goo #2) by Ben Costa (208 pages), I really like seeing more of Rickety's origins and the cast of colorful, fun characters makes every scene play out like a movie. I like the mature tone taken with the story, meaning there is violence, existential crisis, and an even a sole curse word without feeling like "ooh, this story is sooo edgy." I just admire the all-ages quality this story has.
Not to mention the artwork and coloring are A1. I definitely recommend it.
In Chasma Knights by Boya Sun and Kate Reed Petty (128 pages), the imagination behind this story is so much fun! Little animals or monsters come with screws and gears, and you can combine their parts like robots to create vehicles or other devices.
I enjoyed the storybook, manwha-like artwork a lot.
Overall, I think this had a great end to a stand-alone or a good beginning for a series. Kids are going to love all the bright colors and cute characters.
It needs to be said: Coro needed to be choked out! I'm surprised there wasn't an explicit conversation where they acknowledge you can't just take someone's stuff and do whatever you want with it. This fool really took her stuff twice!
Scarlet Rose #2 I'll Go Where You by Patricia Lyfoung (96 pages) is much better than the first book in the series. Where the first dragged and was filled with cliches, this second book manages to make the story fun. The Fox's identity is revealed and Maud, of course, has a hard time coming to terms about her once-idolized hero. Some Scarlet Rose and Fox shenanigans abound and end with a fun pirate adventure. There are also some cute shipping-scenes if you're invested in that sort of thing. I'm actually more interested in knowing more about the Baron brothers.
Some minor violence is present with a victim dying with a bloody arm. Still, a fun book for all ages.
SN: Ohmygosh! The author's the one behind Totally Spies and Martin Mystery's art direction. No wonder I thought the art was familiar 🙂
In Fat Girl on a Plane by Kelly Devos (376 pages), I wasn't really blown away by Cookie at all. I like that she wasn't afraid to call out buffoonery against plus-sized people, but I just never fell for her. Maybe she was too snarky for me. And I sho' didn't care for her 31-year-old-grown-behind-man-abusing-his-power love interest.
His nice-then-nasty personality was fun to an extent. Him and Cookie one-upping each other was fun. Good banter. When he progressed beyond that, I was kind of over it.
The funeral was the absolute best part. Everything else is pretty forgettable.
In Luisa: Now or Later by Carole Maurel (276 pages), I hated older Luisa. She was just so cantankerous, ugh. Beautiful artwork. That is what really drew me in from the character expressions to the color changes. I guess the takeaway is to take all your opportunities or you will end up as a grouchy 32-year-old who missed her chance at love.
Still, the other characters besides older Luisa are really likable. There are strong lgbtq and time-travel themes present as well.
Concerning Curse of the Attack-o-Lanterns (The Creeps #3) by Chris Schweizer (128 pages), you all should know that I love the Creeps series, and I think it would be cool to it see in a cartoon format.
As always, I liked the characters and their interaction with the sheriff. The humor's spot-on, and the book doesn't treat kids as stupid. Yeah, the premise is kiddy but the tension that stems from it is real. I'm always ready for more Creeps books!
Warning: A character dies in a pretty graphic, cartoony moment.
Pokemon Horizon: Sun and Moon by Tenya Yabuno (192 pages) is exactly what you would expect from the Pokemon franchise: a gung-ho shounen protagonist who isn't really knowledgeable about the Poke-world though not dumb, a level-headed female character and a cute (poke)mon with an unquenchable fighting power. Cute drawings but nothing spectacular.